There is a wide variety of things to do in Sigüenza, and you'll never be bored. At Segontiae, we know that the importance of a Spanish language course lies not only in teaching, but the provision of cultural and leisure activities, including trips and excursions. Your knowledge of the Spanish language will be complemented by an understanding of Spanish culture itself.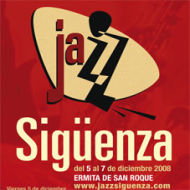 Without leaving Sigüenza, the possibilities for leisure and relaxation are varied, with activities occuring throughout the entire year. Music is particularly popular, a jazz festival taking place each Autumn and classical music performed regularly, and, along with a cinema, theatrical performances are staged periodically. There are courses available in dance, music, and, perhaps most importantly, cookery. A variety of sporting facilities are in place and the town is surrounded by wide natural spaces within a few minutes walking distance. If you simply want to chat in Spanish, there are plenty of opportunities to do so with the town's friendly inhabitants. If you just need to relax, you can enjoy a massage or practise some yoga.

Sigüenza is surrounded by beautiful landscapes and small, traditional Castilian villages. It's one of Europe's best-preserved natural areas, and easy to travel around; Sigüenza's closest villages are only 4, 6, 8 km away, so you can reach them on foot or bicycle.

If you have a taste for a little more action, you can take day or weekend excursions to a variety of larger Castilian towns.
Note also that included as part of each of our four week courses is a free cookery lesson, and guided tours of both Sigüenza and Madrid.


Madrid. The capital of Spain, featuring museums such as the Prado and the Reina Sofia, Plaza Mayor, the Austrian Quarter, the Puerta del Sol, and a wide variety of shopping opportunities. Only one and a half hours by train.
Toledo. A World Heritage site playing host to a great mixture of Islamic, Jewish, and Christian culture.
Salamanca. With its splendid Plaza Mayor and countless important monuments.
Segovia. A World Heritage site featuring a Roman aqueduct, Citadel, Cathedral and numerous churches.
Avila. A fortified town with a beautiful cathedral and a number of churches.
Cuenca. Famous for houses suspended on the gorge of the Júcar river.
Alcalá de Henares. A World Heritage site and Cervantes' place of birth.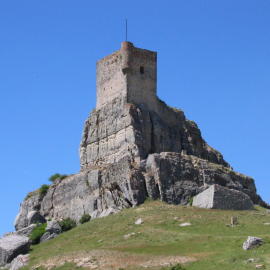 The Romanesque Route. A route through the history of the region, visiting the beautiful medieval rural churches.
The Cid trail. Cultural route through the places mentioned in the 'Poema del Cid' a classic of the medival Spanish literature. It passes by Sigüenza.
The Quijote route. Places mentioned in El Quijote. One of the sections passes by Sigüenza.
Trip to La Rioja. The most important wine producer zone in Spain. You can visit the wine cellars and make a weekend wine course.
Trip to La Mancha. The home of 'El Quijote', with its famous windmills.
Historical towns and villages in the region. Atienza, Molina de Aragón, Medinaceli, Imón, Palazuelos, Guijosa, etc. All these beautiful places are able to be visited in a few hours trip.


The Spanish are famed for their love of cookery and good food, with mealtimes an important part of family and social life. No meal is eaten without a great conversation taking place both during and afterwards, providing you yet further opportunities for language practice. As part of your stay in Sigüenza, you can enjoy lessons in Spanish cuisine and familiarise yourself with Mediterranean gastronomy and diet.
The Mediterranean diet is rich in fruit and vegetables, with wheat as its principle carbohydrate and olive oil used in cooking. Poultry and fish are used more than red meats, and wine drunk in small quantities. After a proposal by the Spanish government, the diet is currently being considered for inclusion on UNESCO's immaterial world heritage? On the grounds of its exceptionally healthy characteristics.
Cookery lessons are given in Spanish by local cooks, but a high level of Spanish isn't required. Included is the preparation of several typical Spanish dishes, and information on Spanish wines, an essential component of the Spanish table.

Spain is home to the art of Flamenco dancing, with the most popular form being that of 'Las Sevillanas', which is danced in bars, clubs, and parties all around the country. There is a dance school in Sigüenza, where you can learn how to dance 'Las Sevillanas' along with many other traditional forms, such as Salsa and Merengue.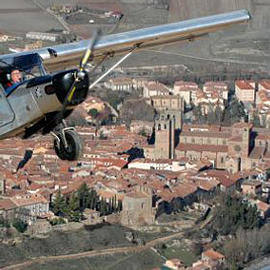 You can take in Sigüenza by air as a passenger on a microlight aircraft, found locally at the town's airfield. It's a perfect way to gain some perspective and further appreciate the beautiful Castilian landscape. Flying courses are also available, a truly fantastic experience.

You can take golf lessons with local professionals or play 18 holes at Cabanillas golf course, situated 80 km from Sigüenza.

The region's beautiful landscape, and the safety of its rural paths, is ideal for the practice of this sport, and bikes can be provided.

You can take in Sigüenza's surroundings on horseback, an excellent way to further your knowledge of the area.

Sigüenza has an extremely active Mycology Society, which organises a mushroom exhibition in the Autumn. It's possible to collect mushrooms from the town's forest in both Autumn and Spring.

A variety of holidays take place in Sigüenza during the year. Perhaps the most important local festivity is San Roque, in August, in which the town's inhabitants take to the streets for a variety of cultural activities, where July sees a celebration of the Middles Ages and an enjoyment of medieval customs. Other significant holidays include San Vicente, San Juan, and many more.

At SEGONTIAE we are open to your suggestions, and will do our best to organise any activity for you during your stay.